Is It Time To Get Your Roof Replaced?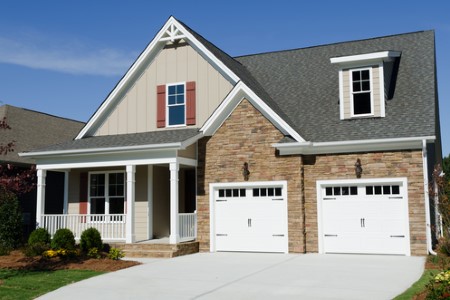 Are you looking for a New Orleans roofing contractor for a roof replacement? At Blueprint Roofing & Construction, we offer you experienced roofing contractors who can get the job done correctly and efficiently.
We have over 23 years of experience replacing flat roofing systems, metal roofs, and composite shingle roofs. You'll have no worries over the quality of service you get from our roofing company. We provide a 5-Year labor warranty on roof replacements. All of our work is performed to comply with building code regulations.
We want you to be able to choose your new roof replacement products with confidence. We offer you quality roof shingles and other roofing products from GAF and Owens Corning, the leading manufacturers in America.
You can take advantage of our FREE estimates by contacting us today. We'll sit down with you to discuss the options we offer in metal roofing, asphalt shingles, other composite shingles, or flat roofing systems.
Metal Roofing Replacements
Whether your metal roof needs to be replaced or you want to change to metal roofing because of its durability, you can count on Blueprint Roofing & Construction. We offer standing seam metal roofing, R-Panel steel roofing, and metal roofing in composite materials that look like real slate or clay tile shingles.
A metal roof is made to last, especially when you choose our quality products from GAF and Owens Corning. Because we are factory-certified roofers of these metal roof replacement products, you'll enjoy an LTD Lifetime Warranty.
Asphalt Shingle Roof Replacements
At Blueprint Roofing & Construction, we offer asphalt shingles to suit all budgets. There's no doubt that asphalt shingles are the best-selling roof replacement material. The standard 3-tab asphalt shingle is the most affordable shingle style. Plus, they do a good job of protecting your roof for some time.
If you would like to elevate the style of your New Orleans home, our roof replacement contractors install architectural shingles and designer shingles. They are available in a wide variety of colors, shapes, and styles.
Flat Roofing -" Residential
If you have a home with a flat roof, you will need to hire an experienced roofing contractor who has done plenty of roof replacements for this roof type. We are your local specialists in replacing flat roofing systems.
Let us assess your roof today. We are often able to extend the life of the existing materials by applying the proper products during repairs. We offer free estimates, so it wouldn't be a problem to make sure your flat roof is actually ready for a full replacement. Either way, you'll be given the information you need to restore your roof to a reliable condition.
Our Latest Articles
Roof Maintenance Tips For Summer In New Orleans
If you've been planning to take care of some to-do maintenance items for your New Orleans home, don't forget to add a few things to your summer roof maintenance list [...]
R-Panel Roofing Replacement
R-Panel roofing is a good roof replacement material for all types of buildings and homes in New Orleans. Whether you own a metal building or a home with traditional brick and mortar siding [...]