New Orleans Top Gutters Contractor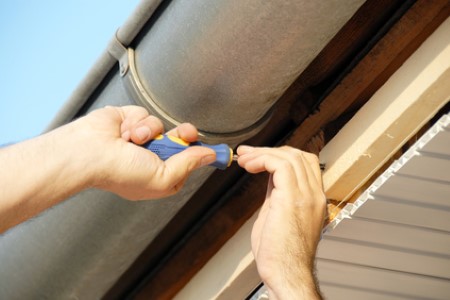 It's easy to neglect gutters, simply because they seem like an accessory. However, rain gutters are one of the most important parts of your home's roofing system. Trust us, no gutters, broken gutters, and sagging gutters can cause extensive wall damage and roof damage.
Our New Orleans roofing company offers professional gutter repair and installation and vinyl siding services to local home and business owners. We can make sure your gutters are doing a good job of protecting your roof and exterior walls from water damage.
Our gutter contractors install seamless gutters on your home or building. The seamless styles offer much more protection from rainwater problems. They only have one solid piece of gutter that stretches the entire length of the roof. This minimizes seams that can leak or break apart.
Our rain gutters and services are available in Slidell, New Orleans, Lacombe, Mandeville, Covington, and the surrounding areas! If you are looking for a FREE estimate for gutters, call our gutter contractors at Blueprint Roofing & Construction today!
GAF Roofing & Gutters
Owens Corning Roofing & Gutters
Seamless Gutters
Affordable Gutters
Premium Gutters
Gutter Repairs
Leaky gutters are a problem that you want to fix when you first notice a problem. If water is pouring down from a broken or loose section of your gutters, the damage to the roof and siding of your New Orleans area home can get expensive to repair. Sagging gutters also cause the same problems because the sagging area will collect water every time it rains.
If your rain gutters aren't in good shape, let our gutter repair contractors fix the problems. We know all about how to repair gutter leaks and can replace the entire system if needed. You can take advantage of our Free Estimates anytime you need help.